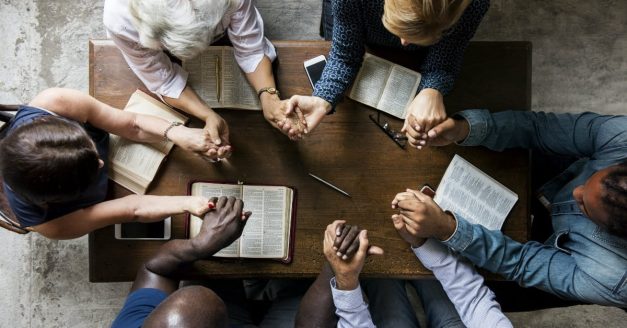 ~ Preparing for Christ's Return ~
Personal Bible Studies with a Bible Instructor
Do you have a desire to dig deeper into the Bible to find answers to your deep questions?
Questions like:
     *How to study the Bible    *Proof that you can Trust the Bible    *What Salvation in Jesus is all about    *Christian Living             *What is Prophecy    *Mark of the Beast    *End Time Events    *And much more!
My name is Dusty and I have been doing Bible Studies with people and families in their homes for 10 years. 
I like using the New King James Version Bible (though you may bring any version). Free printed lessons will be provided.  
For more information or to schedule, fill in the form below.
~ Group Prayer & Bible Study Class ~
Wednesdays, 6:30pm
A beautiful opportunity to spend time with others seeking to learn more about a God who loves and cares for us. This group meets to pray together (don't worry, you won't be put on the spot - praying out loud is completely voluntary!), and then read and study the Bible together. The current topic is on the book of Hebrews.  Prayer time: 6:30-6:55pm.  Bible study: 7-8pm. The class is lead by Jon Jennette. Everyone is welcome! 
~ Study on the Book of Acts ~
Saturdays, 9:45 a.m.
A Bible-only study, perfect for anyone who wants to learn about the Bible or God
Designed so that everyone can participate. The basic format includes reading a scripture passage, someone re-tells the story with help from the group, and then we ask ourselves and discuss key questions:  "What does this passage tell us about God?" "What does this passage tell us about people?" and "In light of this passage, what is God asking me to do this week?".  This class encourages a deep look at a single passage and a focus on what God wants us to do as we learn more about His character.  We hope you will come and bring a friend!
Location: Otis Orchards Seventh-day Adventist Church
~~~

Hear short daily devotionals by Amazing Facts for today
Discover God's plan for you and your life through the study of His Word.  Start discovering more of His plans in your Bible today with these free Bible studies offered to you directly in your home or at our church in Bible study groups.  We hope will bless you and draw you into a closer relationship with Jesus!  
Contact us at (509) 720-8606 or fill out our online Bible study form below: